We love what we do, and we're passionate about the products we manufacture, but why should you choose Don & Low?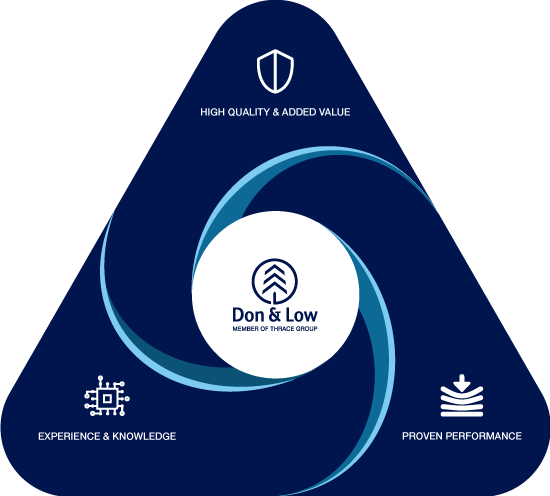 High Quality and Added Value
We're passionate about the products we manufacture, which is why our products and service achieve the highest quality standards possible across multiple industries globally. We effectively and efficiently serve a wide variety of markets with products that enhance various end applications to suit our global customer base.
Our technical team continually work on new applications, and we develop our products in partnership with our customers to ensure their specific product, application or project requirements are always met. Should you have a specific technical requirement not met by our existing range, we will design a fabric for your needs. The customer is at the heart of everything we do.

Experience and Knowledge
We have over two centuries of experience and knowledge in producing technical textiles and over 35 years of experience in nonwoven production. All work is conducted in our excellent in-house research facilities to optimise every single detail of our products.
Proven Performance
We also understand that innovation, flexibility, and a proactive approach are essential to creating the value-added, high-performance materials that our customers need. We never compromise on quality from the raw materials we purchase right through to the finished goods we supply. We also continually strive for on-time delivery and excellent customer service, so you can rest assured when you buy any of our products.
All of our yarns, tapes, and fabrics have proven performance and success in multiple projects worldwide – with every product tested against the latest industry standards.
Challenge us to provide support, strength and protection for your product, application or project
CHALLENGE US