With a legacy from 1970, we have established ourselves as pioneers in geotextile application design. Leveraging our extensive 50-year experience in the industry, we proudly offer a comprehensive range of woven and needle-punched nonwoven geotextiles alongside high-performance biaxial geogrids.
All our Lotrak® geotextiles are meticulously manufactured in the UK and specifically engineered to deliver outstanding mechanical and hydraulic properties, making them ideal for various construction and civil engineering applications.
As a leader in needle-punched nonwoven and woven geotextiles, our Lotrak® grades have a proven track record in multiple projects, including constructing access roads, temporary or permanent roads, car parks, drainage systems, and ground stabilisation.
On the other hand, our needle-punched nonwoven geotextiles excel in French or narrow trench drains and find utility in Sustainable Urban Drainage Systems (SUDS), providing superior performance in attenuation systems for infiltration and membrane protection. We also offer specialised grades for hazard identification, flood protection, and floating access roads, catering to demanding environments like wind farms.
As a market leader in geotextiles with a diverse selection of Lotrak® products available as top choices, we are confident that we can provide the perfect solution to meet a wide range of project requirements. Moreover, we offer alternatives to most woven and nonwoven geotextile specifications, allowing you to design a solution that aligns with each contract's technical and commercial needs.
Recognising that the optimal geotextile solution often involves a combination of materials, our technical team is ready to assist you in specifying Lotrak® products. Additionally, we offer a cost-effective design component for all our Lotrak® products, ensuring you select the right solution tailored to your project requirements.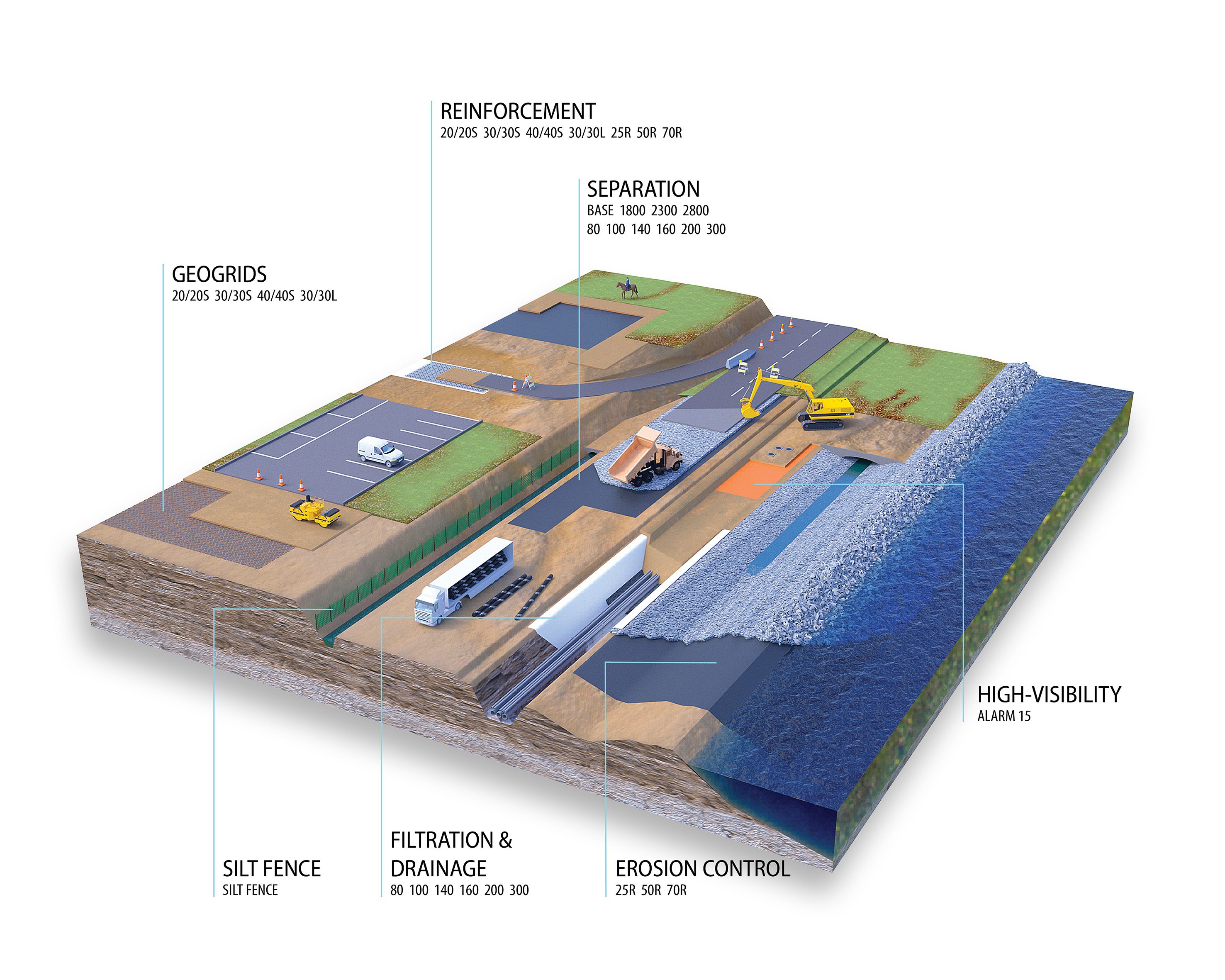 | | | |
| --- | --- | --- |
| Lotrak® 25R | English | Download |
| Lotrak® 50R | English | Download |
| Lotrak® 1800 | English | Download |
| Lotrak® 100 | English | Download |
| Lotrak® 70R | English | Download |
| Lotrak® 80 | English | Download |
| Lotrak® 2300 | English | Download |
| Lotrak® 200 | English | Download |
| Lotrak® 2800 | English | Download |
| Lotrak® 160 | English | Download |
| Lotrak® 300 | English | Download |
| Lotrak® Base | English | Download |
| Lotrak Erosion Control | English | Download |
| Lotrak Biaxial Geogrids Flyer | English | Download |
| Lotrak Separation | English | Download |
| Lotrak Reinforcement | English | Download |
| Lotrak Filtration & Drainage | English | Download |
| Lotrak® 2020S | English | Download |
| Lotrak® 3030S | English | Download |
| Lotrak® 4040S | English | Download |
| Lotrak® 3030L | English | Download |
| Lotrak High Visibility | English | Download |
| | | |
| --- | --- | --- |
| Lotrak Installation Guidelines | English | Download |
| | | |
| --- | --- | --- |
| Lotrak® Geotextiles Durability Statement | English | Download |
| Corporate Brochure | English | Download |
| Geotextiles Introduction | English | Download |
| Lotrak Reinforcing Grades Flyer | English | Download |
| | | |
| --- | --- | --- |
| Case Study - Rewind Scotland Festival 2012 | English | Download |
| Case Study - Inverness Flood Prevention Scheme | English | Download |

EXPLORE MORE
DON & LOW MARKETS